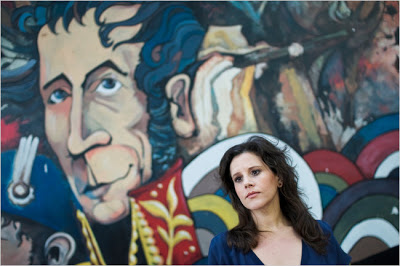 By Simon Romero, The New York Times
original:
here
SLIP into Librerías del Sur, a chain of state bookstores. Read a state newspaper. Turn on state television. Listen to state radio. Eva Golinger, a New Yorker who speaks Spanish with a thick American accent, seems to be expounding everywhere these days on the threats to this country's so-called "Bolivarian revolution."
Welcomed into President Hugo Chávez's fold to such an extent that she accompanied him on a recent trip to Iran, Libya and Syria, Ms. Golinger, a lawyer who first came to Venezuela in the 1990s to research her family's history, has created a unique niche for herself here: an American with the president's ear.
She details in her writings what she contends are Washington's efforts to destabilize Venezuela's government, interpreting documents obtained in the United States through the Freedom of Information Act. Publishers here and in Cuba have printed more than 200,000 copies of her 2006 book on these claims, "The Chávez Code."
She has since emerged as one of the most prominent fixtures of Venezuela's expanding state propaganda complex. Reviled by the president's critics, she appears on state television whenever tension ratchets up between Washington and Caracas, as it did recently in a spat over ambassadors, to explain the motives of the "empire," the term used here for the United States.
She also edits the English-language edition of Correo del Orinoco, Venezuela's equivalent of the Cuban newspaper Granma, and maintains a widely read blog called "Postcards from the Revolution," which features a photograph of her clad in red, the color of Mr. Chávez's movement.
"I'm a soldier for this revolution," Ms. Golinger, 37, said in an interview at a cafe near her apartment in La Florida district. "I'd do whatever asked of me for this country."
Her zeal invokes earlier waves of political pilgrims in Latin America from rich countries, like the volunteers who cut Cuban sugar cane in the 1960s or the Sandalistas, the idealists who flocked to Nicaragua in the 1980s (often clad in sandals) to support the Sandinistas.
But Ms. Golinger is a far cry from a Sandalista. She eschews the self-effacing style of some other leftist American transplants here. Instead, she has stepped to the fore and emerged as a symbol of Venezuela's simmering polarization, with her televised claims of American-backed coup-plotting and conspiracy.
Some affected by Ms. Golinger's accusations say they amount to a modern-day witch hunt.
"Golinger has systematically attacked defenders of human rights and freedom of expression by presenting them as puppets of Washington, something far from the truth," said Andrés Cañizález, who came under her scrutiny for heading a press freedom group that received financing from the National Endowment for Democracy.
"Paradoxically she uses a right established in the United States, of access to public information, which Venezuelans do not have," Mr. Cañizález said.
HER influence here has increased to the point where the National Assembly approved in December what is often called the "Golinger Law," a measure intended to limit foreign financing for rights groups, political parties and other nonprofit organizations, some of which are critical of Mr. Chávez.
Her influence extends to the president himself. In October, she accompanied Mr. Chávez on a seven-country tour that included visits with Venezuelan allies like Mahmoud Ahmadinejad, president of Iran. "Chávez presented me as his defender to Ahmadinejad," said Ms. Golinger, describing the Iranian leader as "gentle" after giving him her book at a dinner.
She came away from the trip with her own appreciation of other Venezuelan allies like President Aleksandr G. Lukashenko of Belarus, who is often called Europe's last dictator.
After meeting Mr. Lukashenko in person, she described him as "really nice." As for Belarus itself, she said its Western critics were mistaken because it is "not a dictatorship." Rather, she said, "It is socialism." She praised a Belarussian agricultural town she visited. "People seemed really into their communal work and stuff like that," she said.
A seat on Mr. Chávez's Airbus was not always in the cards for the woman born Eve Golinger at Langley Air Force Base in Virginia. Her father, a psychiatrist, served as an officer during the Vietnam War. She grew up without speaking Spanish and attended Sarah Lawrence College, near New York City.
Curiosity about her roots brought her to Venezuela in the 1990s. She said the family of her mother, an American lawyer, had lived in Cuba and Venezuela before immigrating to New York in the early 20th century. Ms. Golinger settled in Mérida, a student city in the Andes, singing in a jazz band to pay her rent.
After several years in Venezuela, she married one of the band members and they moved back to New York, where she earned a law degree at the City University of New York. But she said the marriage came under strain as she grew more involved in pro-Chávez political activities.
"He didn't like what I was doing, so it was the reason for the split," Ms. Golinger said. She then settled here in 2005, after obtaining Venezuelan citizenship in 2004 thanks to legislation that she said allowed her to "reclaim" it because of her ancestry.
CRITICS and supporters alike agree that she has influenced the public debate here and in neighboring countries. While much of her activism is rooted in distrust over American financing for groups that were critical of Mr. Chávez during the chaotic events surrounding his brief ouster in 2002, governments in several other countries, including Bolivia, Ecuador and Peru, have heightened scrutiny of financing sources for nongovernmental groups.
"No one else has been able to bring so much attention to declassified documents over such a long period," said Jeremy Bigwood, an investigative journalist in Washington who has collaborated with Ms. Golinger.
Still, some who have worked with her question her methods. Before a 2007 vote on constitutional reforms, she helped publicize a document that she said was intercepted by Venezuelan counterintelligence officials. It described "Operation Pliers," presumably a C.I.A. "psyops" destabilization project.
"It sounded like it was lifted from a second-rate story on TV," said Mr. Bigwood, questioning why it was written in Spanish, not in English, and how a C.I.A. field officer could have written directly to the agency's head. He compared it to a notorious 1924 British forgery of a Bolshevik letter that ended the first Labour government.
"Like the Zinoviev letter, it was a fake designed to change the course of an election," Mr. Bigwood said. Ms. Golinger called the Operation Pliers episode "unfortunate," saying that she had since grown more skeptical of some documents she was asked to analyze.
Coincidentally, Americans will soon get more exposure to Ms. Golinger by way of Russia. This year she began hosting a weekly program called "Behind the News" for the Spanish-language operation of RT, a multilingual news network financed by Russia's government. The program will be available on some cable channels in the United States.
At the same time, she said, she planned on continuing to appear on state television programs like "La Hojilla," or "The Razor Blade," a nightly talk show that the government here often uses to attack its critics.
When asked whether it was appropriate to use state media to go after the president's critics, she contended that his opponents were just as quick to heap scorn on the government.
"I don't think it's a question of validity," she said. "It's the reality of the situation."