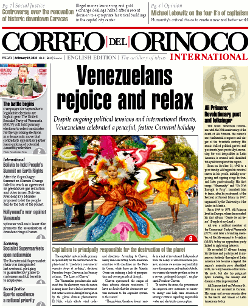 Hi Friends of Venezuela!
This week's Correo del Orinoco International - English Edition, dated Friday, February 19, 2010 is out! Our cover is a fantastical image of a Carnival costume, on display during the celebration and festivities this week that overcame most of the nation. We have stories about Venezuela's Carnival traditions, particularly in the small village of El Callao, an area that still cherishes and reenacts the customs created from times of Colonialism that have African, Spanish and English roots. We feature an in depth article and analysis on the legislative campaigns already in effect throughout the country, gearing up for next September's elections. Some say those elections are as important as the future of the Bolivarian Revolution. Other articles detail an import People's Summit in Bolivia to Support Mother Earth's Rights; a stellar baseball game that pitted President Chavez against some heavy hitters from the US Major Leagues; a study on the world economic crisis, now hitting the European Union and especially Greece, and how Venezuela is impacted; a groundbreaking socialist supermarket chain inaugurated over the weekend that guarantees low prices to consumers and benefits to workers previously exploited; a grand makeover for the historical downtown area of Caracas; and a great article from professor Michael Lebowitz on the 4 Rs of capitalism.
We are still happy as always to announce that this issue, along with our past four editions, is available at
http://www.venezuelanalysis.com/correo-del-orinoco
. We hope that our website will be up and running by next week!
Please continue to send your comments, letters and articles to us at
[email protected]
, and please help distribute this paper to all our friends, colleagues and those you think might be interested in news and information from Venezuela, from a Venezuelan perspective.
Revolutionary regards,
Eva Golinger
Editor-in-Chief
Correo del Orinoco International - English Edition