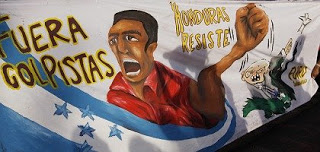 Here is a link to an interesting interview with President Zelaya of Honduras:
Spiegel interview with President Zelaya: "We will not be brought to our Knees"
.
More than one month has now gone by since the coup regime ousted President Zelaya from power and installed a dictatorship. Zelaya remains in Nicaragua, still un-reunited with his family - they have not been able to leave Honduras to see him without risking forced expatriation. There were several deaths and injured during last week's protests against the dictatorship, and a teacher was assassinated by the coup forces.
The resistance front against the dictatorship is organizing major marches to begin this Wednesday, August 5th. The protests will be conducted throughout the country and will end in Tegucigalpa and San Pedro Sula, the two largest cities in Honduras.
Meanwhile, the opposition groups in Venezuela are trying to provoke a coup against Chávez, again. They are calling for destabilization activities throughout the nation in reaction to the Venezuelan communications commission's (CONATEL) suspension of 34 radio station's licenses to operate due to administrative irregularities. Apparently, the 34 stations that were suspended are completely in violation of the Telecommunications Law and administrative procedures - in some of the cases, the operators and owners of the stations didn't even have licenses to operate those frequencies, in other cases, the licenses were outdated and never renewed, and in other cases, the licenses had been illegally passed on to third parties without authorization from CONATEL.
In any case, the opposition in Venezuela is using this situation as an excuse to call for protests against the Venezuelan government and to call on the international community to support their destabilization actions. While the suspension of any media outlet's license to operate on the airwaves can always be viewed with a political tint, there are also laws and regulations that must be complied with and in this case, CONATEL is merely enforcing the law. There are still plenty - hundreds - of other radio stations, mainly opposition run, that continue to operate and are in compliance with the law. Those that violate the law will be sanctioned. That's how a democratic country with a state of law operates!