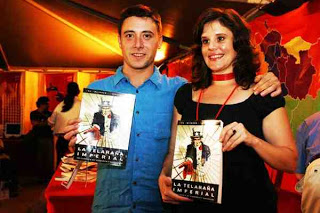 The Empire's Web: An Encyclopedia of Interventionism and Subversion is a tool essential to understand the deep and complex mechanisms of U.S. interventionism that has plagued people's movements around the world during the last two centuries. In this book, the autors demonstrate the connections and relationships between different actors, institutions, government agencies, NGOs, think tanks and political parties around the world, such as the Rockefellers, CIA, Human Rights Watch, National Endowment for Democracy (NED), Bilderberg Club, USAID, the Military Industrial Complex, and many others, and how they form part of a massive network seeking world domination and imposition of the capitalist-consumerist model. The Empire's Web is not your typical book. Use it as a reference manual, a guide to imperialism, a political tool that can help you understand the intricacies of the relationships between actores and entities that act against the will of sovereign peoples. There is not one entry in this book - person, institution, multinational, agency, NGO, think tank or strategy - that is more important than the others. This is The Empire's Web; get to know it well, because if you don't, you could get trapped in its fatal grasp.
ENGLISH TRANSLATION COMING SOON. FOR INTERESTED PUBLISHERS IN ENGLISH, PLEASE EMAIL ME AT
[email protected]
About the Authors
Eva Golinger: Venezuelan-American lawyer, writer and investigator dedicated to investigating and denouncing U.S. intervention in Venezuela and other Latin American nations during the last decade. Author of the books The Chávez Code: Cracking United States Intervention in Venezuela (Olive Branch Press 2006) and Bush vs. Chávez: Washington's War on Venezuela (Monthly Review Press 2007), amongst other publications and articles. Her books have been translated to English, French, German and Italian. She has won two National Book Awards (Venezuela 2006) and the Municipal Book Award (Caracas 2007) for her first book, The Chávez Code. She is currently and investigador with the Centrol Internacional Miranda (CIM) and co-founder and General Director of the Center for Strategic Studies "CESE" in Caracas, Venezuela.
Romain Migus: Investigator and French sociologist residing in Venezuela since 2004. Author of various publications and articles in French, English and Spanish about the Bolivarian Revolution and the Media War against Venezuela. During 2006-2007 he was an investigator with the Centro Internacional Miranda. He is co-founder and Communications Director of the Center for Strategic Studies "CESE" in Caracas, Venezuela.