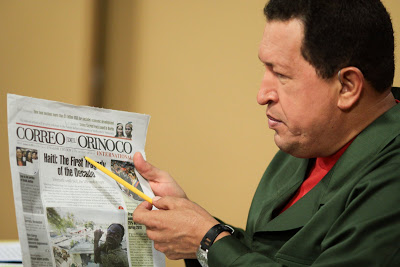 Saludos Friends of Venezuela!
Our Correo del Orinoco International - English Edition for the week of January 29, 2010 is now available! Attached is a digital version of Venezuela's first and only English-language weekly newspaper. This edition will be distributed in print for free in Venezuela on Friday, January 29, as an insert in the Correo del Orinoco en español, our sister publication.
This issue provides insightful analysis and information about: Evo Morales' recent inauguration in Bolivia - the second historical term for the world's only indigenous president; Why Venezuelans march on January 23; The Bolivarian Counterattack - mass marches and campaigns launched nationwide in Venezuela; A new report from the US revealing Venezuela has the largest oil reserves on Earth; Violent protests end with two students killed in Venezuela on Monday in reaction to legal sanctions against a cable television station that refuses to follow the law - How many lives is corporate media worth?; An exciting metrocable system changes the lives of Caracas' low income communities; Police fight against gender violence; and our newest stellar columnist, Cindy Sheehan, on corporate rule in the US; in addition to many other interesting and exciting topics.
We are excited to announce that next February 4 we will launch the #1 issue of the Correo del Orinoco International - English Edition, as a separate publication. It will be on sale at newstands throughout Venezuela and will be available online for no-cost viewing. We are still seeking international distribution for the print publication and welcome any suggestions or offers for collaboration to bring Correo del Orinoco International to your community or country. Our website will also be launched simultaneously next week in both English and Spanish.
If you are interested in contributing to the Correo del Orinoco International as a writer, distributor or columnist, please contact us at:
[email protected]
We welcome all constructive criticisms and suggestions to improve our quality and content and to make us the leading source of information and news in English from a Venezuelan perspective. Please also let us know if there is a particular topic you would like to see addressed in future issues.
Download this week's edition here:
http://centrodealerta.org/documentos_desclasificados/correo_del_orinoco_internat_2.pdf

Please repost on your websites and send to others who might be interested in receiving the digital version in their inboxes.
Thanks for reading us and caring about the always interesting (and never boring) events taking place in Venezuela.
Eva Golinger
Editor-in-Chief
Correo del Orinoco International - English Edition