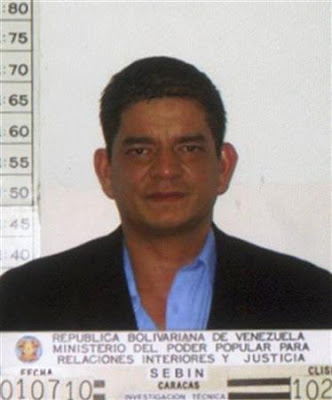 Plans to commit terrorist acts in Venezuela were impeded
Venezuela captures a top Latin American terrorist
By Jean-Guy Allard and Eva Golinger
Francisco Chavez Abarca was captured entering Venezuela with a falsified passport. The El Salvadoran is known as the "right hand" of Cuban terrorist Luis Posada Carriles, responsible for bombings and terrorist acts against Cuba and its allies during the past 40 years
Venezuela's President Hugo Chavez announced the capture of Salvadoran terrorist Francisco Chavez Abarca after he attempted to enter Venezuela's international airport with a false passport last Thursday.
The Salvadoran criminal nicknamed "El Panzon" not only organized a series of explosions that killed young Italian tourist Fabio di Celmo in 1997, he also recruited, trained and dispatched several other mercenaries to Havana, in addition to personally making three trips to the island to conduct several attacks against Cuban installations.
President Chavez revealed that the arrest of "El Panzon" was made during an intelligence operation on the evening of July 1 when the offender tried to enter Venezuela. Abarca was arrested at the airport in Maiquetia after arriving on a commercial airliner from Costa Rica and was immediately transferred to the headquarters of the Bolivarian Intelligence Service (Sebin).
"What did Chavez Abarca plan to do in Venezuela? Who was waiting for him?" asked President Chavez before announcing that the terrorist would be deported to Cuba based on an Interpol request seeking his arrest.
"This gentleman came here to kill me, my heart tells me so", said President Chavez, referring to the Salvadoran's mission in the South American nation.
"Posada Carriles must be very nervous because we've captured one of his main cohorts", exclaimed the Venezuelan leader. Venezuela has an outstanding extradition request for Luis Posada Carriles, who has been protected by the US government since his illegal entry via Texas in May 2005. Posada Carriles, a naturalized Venezuelan citizen, is a fugitive from Venezuela's justice system, having escaped from a Venezuelan prison in 1985 after his arrest for his role in the 1976 bombing of a Cuban airliner that killed all 73 passengers on board.
The Salvadoran criminal Luis Posada Carriles hired in 1997 is a known criminal gang leader who for years made the headlines in El Salvador for his illicit activities, including car theft, drug trafficking and money laundering.
While Posada, the continent's most notorious terrorist, is in the United States, under the protection of the Obama administration - with a trial that never seems to happen - and a hero of the Miami mafia, Chavez Abarca was imprisoned for two years in El Salvador, not for terrorism, but for his role as head of a Central American network of car thieves.
CRIMINAL MAFIA
In the early 90s, Francisco "El Panzon" Chavez Abarca was involved in drug trafficking and the sale of weapons and counterfeit money in Guatemala. Through these illicit operations, which were all overseen by Posada, he gradually became his confidant.
"El Panzon" was linked in the early 90s with Posada Carriles through his father, the arms dealer Antonio Chavez Diaz, who was involved during the 1980s buying weapons captured by the Salvadoran army in counterinsurgency operations while Posada, his client, "ran" drug operations and transported arms for the US-backed and funded Nicaraguan Contras.
TERRORISM
The 1997 plot to sow terror in Cuba was generated in the offices of the US-funded Cuban American National Foundation (CANF), founded in September 1981 under the guidance of the Reagan-Bush administration, and run by CIA agent Jorge Mas Canosa.
Chavez Abarca was publicly linked to Posada Carriles by the Salvadoran mercenary Ernesto Cruz Leon, when he was arrested in Havana after the attacks that resulted in the death of Italian tourist Fabio di Celmo, and the damage against several major tourist installations in Cuba. Cruz Leon confessed to working under the guidance of Posada Carriles. Cruz Leon also admitted he had been trained by Chavez Abarca to place explosives in Cuba.
The Salvadoran terrorist made three trips to Cuba in April and May 1997, all very brief, during which he placed the first explosive that initiated the terror campaign of 1997. A bomb made of 600 grams of C-4, placed by Chavez Abarca in the bathroom at the Hotel Melia Cohiba, exploded on April 12, 1997, causing material damage to the tourist installation and frightening the hundreds of visitors and guests at the Spanish-owned hotel.
Additionally, on May 24, 1997, while Chavez Abarca was in Mexico, a bomb exploded at the entrance to the offices of the corporation Cubanacan, a Cuban tourist agency.
Chavez Abarca also collaborated with Posada Carriles to recruit other terrorists in Central America, including the Guatemalan Maria Elena Gonzalez, Nader Kamal Musalam Barakat, also known as Miguel Abraham Herrera Morales, and Jazid Ivan Fernandez Mendoza, all arrested in Havana in March 1998, when they tried to bring explosives into Cuba.
Kamal Nadel revealed at his trial how Chavez Abarca provided him with explosive material, detonators and showed him how to make bombs. Chavez Abarca also recruited Otto Rene Rodriguez Llerena, who traveled to Havana on August 3, 1997 with 1519 kilograms of plastic explosive C-4, and placed a bomb in the lobby of the Hotel Melia Cohiba. He was captured upon arrival in Havana on June 10, 1998, from Guatemala.
VENEZUELA
On Wednesday, Francisco Chavez Abarca was deported to Cuba, after days of interrogation conducted by Venezuela's intelligence agency, Sebin. The Salvadoran revealed details of how he was scheduled to meet with two Venezuelans, who would provide him with instructions regarding where to place bombs in the Venezuelan capital. The objective was to provoke an atmosphere of panic and fear during the upcoming campaign for legislative elections set to take place in September.
Before his deportation, Chavez Abarca also confessed that he was paid "a lot of money" by his Venezuelan counterparts, and was going to help them plan "attacks against political parties" to create conflicts and divisions and disrupt the electoral process. He spoke of "burning tires in the streets", "setting off explosives" at different installations throughout the country and creating a "wave of terror" in the country that would impede and discredit the upcoming elections as well as portray the Venezuelan government as "incapable of defending its territory".
The Central American terrorist admitted he was acting on orders from his boss, Luis Posada Carriles, currently residing freely in Miami despite the criminal processes and extradition request against him in Venezuela. He said he communicated with Posada Carriles via "Daniel", a third party who relayed the message to go to Venezuela, where he would meet with "two Venezuelans at a restaurant near the airport, in Catia la Mar".
Last week, the US Department of Justice sent its first response to the Venezuelan government in the Posada case, requesting further evidence of his "terrorist activity". Declassified FBI documents list the Cuban-born Posada as a "terrorist", but also reveal his former work with the CIA, which many speculate is the reason for his protected status in the US.