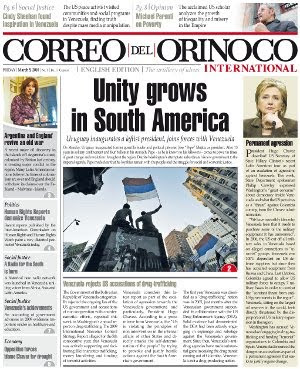 Saludos Friends of Venezuela!
We are so happy to announce that finally, our Number 1 edition is out! We have had a good trial period for the past six weeks and now are official!! Please find this week's Correo del Orinoco International - English Edition, Number 1, Year 1, attached. We are also overjoyed to inform you that the Correo del Orinoco website is up and running. For now, our English-language paper is available on the Spanish-language site, but we will have a full-fledged English-language website in the near future, and we will let you know when that happens. Here is the link to the English section on the Correo del Orinoco website:
http://www.correodelorinoco.gob.ve/english-edition/
Our Number 1 is full of interesting and in depth articles on the new Uruguayan president, Pepe Mujica, and the consolidation of unity in South America; the battle over the Malvinas Islands off Argentina's coast, currently under English colonization and control; the demonization of Venezuela through human rights reports that don't seek to judge the Chavez administration for its advances in human rights, but rather to distort and manipulate the facts; the absurdity of an opposition that blames everything on President Chavez, even the current drought the country is facing; Cindy Sheehan's productive and inspiring visit to Venezuela and her discovery of how the People's Power impulsed by the Bolivarian Revolution is transforming lives across the nation; a new radio station for the Global South, uniting voices from Latin America, Africa and Asia - a project of Hugo Chavez himself; and an intelligent analysis of poverty and the deception of wealth in the United States, by renowned scholar, Michael Parenti.
We continue to seek your submissions, commentaries and letters. Please feel free to write us at
[email protected]
.


We hope this paper will continue to be a successful reference for information, news and intelligent analysis of events and advances in Venezuela, from a Venezuelan perspective.

Revolutionary Regards,

Eva Golinger
Editor-in-Chief
Correo del Orinoco International
English Edition