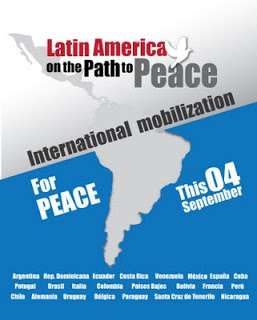 Join our Facebook group EN PIE DE PAZ -- ON THE PATH TO PEACE
"EN PIE DE PAZ" -- "ON THE PATH TO PEACE"
4 de septiembre de 2009
Mobilización Mundial EN PIE DE PAZ y declaración de América Latina como ZONA DE PAZ y LIBRE de injerencia y bases militares de Estados Unidos.
4 September 2009
International Mobilization ON THE PATH TO PEACE, declaring Latin America as a ZONE OF PEACE, free of US military bases and intervention.
Los pacifistas somos más, marchemos y mobilizaremos por el amor, la solidaridad y la paz este 4 de septiembre.
Mobilize and march for peace, solidarity and justice this September 4th and help initiate a campaign to cease US military presence and aggression in Latin America.
Concentrémonos en todas las plazas de Bolívar y en las Embajadas y Consulados de Venezuela en todo el mundo.
Rallies ON THE PATH TO PEACE will be held in front of Venezuelan embassies and consulates throughout the world, JOIN US - THE ONLY DEFENSE AGAINST WAR AND AGGRESSION IS UNITY AND SOLIDARITY!
A través de la página podemos ir coordinando los diferentes grupos en cada país.
Si quieres ser coordinador de tu ciudad o tu país, escríbenos:
[email protected]
IF YOU WOULD LIKE TO COORDINATE AN "ON THE PATH TO PEACE" CHAPTER IN YOUR COUNTRY, PLEASE WRITE US. AND SPREAD THE WORD.
[email protected]
KNOWLEDGE IS OUR STRONGEST WEAPON.