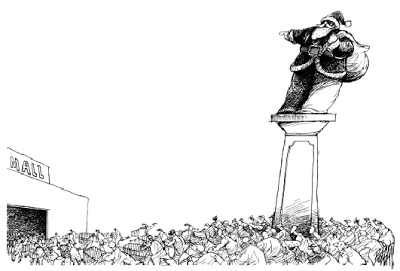 (Cartoon by Angél Boligan)
Caracas has been in a crazed consumer frenzy during the past 2 weeks. Finally, things are settling down since most people have left the City for vacation spots around the world and lots have gone to spend their holidays at the beach. The City, which normally is over-congested with traffic and madness, was in particular form after December 15 (payday). The traffic was un-mysteriously concentrated in huge jams around...the MALLS! Spend, spend, spend...buy, buy, buy...oh, and light of firecrackers day and night!!! The "bin ladens" and the "mother-in-law-killers", as the powerful cherry bombs are called, have been waking up the more peace-loving caraqueños in cold sweats since December 1, and probably won't stop until after the New Year.
But, despite those obstacles, Caracas is beautiful in Christmas time! Especially with most of the people gone from the City!!! Lots of lights and decorations and celebrations everywhere. Venezuelans are a happy people who love to party!
President Chavez hsn't stopped to rest since the December 2 referendum vote. He's been traveling throughout Latin America and just finished up overseeing the Petro-Caribe summit in Cuba, which further solidifies the discounted petroleum agreement Venezuela inaugurated last year along with a dozen Caribbean nations. Petro-Caribe will provide low cost oil to neighboring nations, particularly poor ones like Haiti, in return for payment through goods and services. This is yet another aspect of Venezuela's foreign policy based on cooperation and solidarity.
The ridiculous
"maletin" scandal that has been filling up airwaves and newspaper front pages during the past 10 days will be brought to surface yet again on December 28, when supposedly the 4 men detained in South Florida will have a hearing. So far, no evidence has been produced that actually demonstrates that these individuals were acting with the "direction" and "authority" of the Venezuelan government, which is a necessary step in order for the US Department of Justice to prove their case that the guys were acting as "agents" of the Chavez administration. So far, looks like a bogus case since the only connection proven between the detainees and the Venezuelan government are some very legitimate business deals. Imagine if every single person who did some kind of business with a foreign nation was considered an agent of that government! Most corporations, multinationals and even small and medium size businesses would be in danger then of violating US laws. The Foreign Agent Registration Act (FARA) of which these men are accused of violating, only applies to those individuals who are acting as agents under the direction and authority of a foreign government on US soil, and they have to be engaging in work relating to the political sphere (political activism or lobbying). This generally refers to lobbyists, public relations representatives, consultants (lawyers are exempt from FARA) and spies. Seeing as how those 4 men implicated in this scandal appear to be none of the above, looks like the case is just another attempt to smear the reputation of the Chavez government. No surprise that such dirty work is being done in the hands of the Bush administration and its Justice Department.
Anyway, if Chavez really wanted to give Cristina some money for her campaign, he would have just brought it himself on his own plane, which would never have been subject to search because of diplomatic immunity. He certainly wouldn't have authorized some sketchy mafiosa businessman to carry a briefcase full of cash on a private plane to Argentina. Please!!!!
The revolution doesn't rest for Christmas, I'll be working on finally finishing up my next book over the next 2 weeks. 2008 should be a year full of progress and achievements! The best gift of all is the contribution we each can make to building a more just and peaceful world.
Happy Holidays to all!!!!