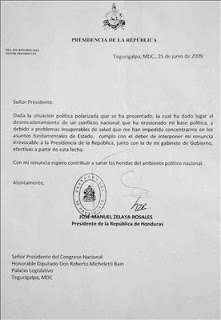 Alleged resignation letter with forged signature from President Zelaya is dated June 25, 2009. This is completely ridiculous considering that up until he was violently kidnapped this morning, Zelaya gave no indication whatsoever that he was planning to resign. Today, in is forced exile from Costa Rica, he has reaffirmed his role as constitutional president of Honduras and denied any resignation via letter or any other means.
The Honduran Congress has violated the human rights of its citizens and has brutally repressed members of Zelaya's administration. Foreign Minister Patricia Rodas, who was beaten and taken from her home a few hours ago, has still not resurfaced.
The Honduran Congress says they have not executed a coup d'etat but rather are installing "rule of law" and "democracy". WTF?????
BTW, the FAKE RESIGNATION letter states:
"Mr. President:
Due to the polarizing political situation in the country, which has provoked a national conflict that is eroding my political support, and due to my uncureable health problems that have impeded me from concentrating on my fundamental duties in the government, I am handing in my irrevocable resignation as President of the Republic, together with my Cabinet members, effective as of today.
With my resignation, I hope to contribute to healing the wounds in the national political environment.
Sincerely,
Jose Manual Zelaya Rosales
President of the Republic of Honduras
Addressed to: President of the National Congress
Honorable Representative Don Roberto Micheletti Bain
Legislative Palace
Tegucigalpa"
THIS IS CLEARLY A FAKE! AND THE GUY IT'S ADDRESSED TO, MICHELETTI, IS THE ONE THE CONGRESS JUST NAMED PRESIDENT OF HONDURAS!
Also, the "health problems" referred to in the letter are regarding the opposition's claim that President Zelaya is "mentally ill". Hmmm....the Venezuelan opposition has tried to say the same about President Chavez and have even had psychiatric studies conducted to back their "accusations".
Maybe all of us are mentally ill who fight for social and economic justice and refuse to bow to imperialism, fascism and military coups!!