We just culminated the III Annual International Book Fair here in Caracas, sponsored by the Ministry of Culture and the National Book Center. This year's theme was "Is Revolution Possible in the United States?" and authors and long term activists such as Ward Churchill, Kathleen Cleaver, Amiri Baraka, Amina Baraka, amongst other important voices, gathered together for a week engaging in this very intriguing debate with the people of Venezuela. The event was extremely informative, inspiring and successful and led to the final determination that YES! revolution is possible in the USA, but it certainly needs a major push and some massive stimulation!!!!!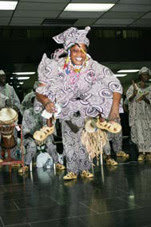 The Second Annual Festival with the Peoples of Africa is also taking place right now in Caracas. Cultural and political representatives from the Congo, Namibia, Benin and other African nations are meeting with high level members of the Venezuelan government and sharing cultural traditions with the people of Venezuela. These initiatives are part of the Chavez Government's foreign policy based on cooperation and integration with other people's around the world that share similar characteristics with Venezuela: poverty, rich natural resources, colonized past, developing status, immense potential for social and economic development.
In the meantime....the violent opposition students and political leaders are still trying to wreck havoc in the streets. Today is National Student Day in Venezuela and the streets are full of marches from all sides. We are expecting President Chavez to arrive in a few hours to address the crowd of tens of thousands of students that support the Bolivarian Revolution and the Constitutional Reform that will be voted on next December 2nd.